Our Entire Team Welcomes you and your Family
Pediatric Dentists Kelly K. Hilgers, DDS, MS, Greg P. Mathieu, DDS and Molly Bremen, DDS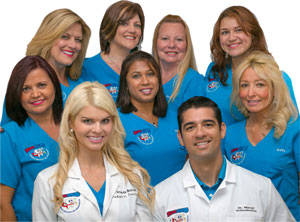 My team is highly trained and certified to treat pediatric dental patients. They have extensive experience in pediatric dentistry which sets the practice apart from other offices who simply try to treat children without any additional training. My staff truly cares about every child who comes to visit us and strives to make a difference in that child's life by making the dental visit special, fun and non-threatening.
I lead the greatest pediatric dental team possible. Also, all of my staff are mothers themselves. Each and every one of my staff is so compassionate toward our patients and really cares that the patient has a great experience (as if she were treating her own child). From the moment a child walks through our doors, our staff makes certain that every child is greeted with a friendly smile and a cheery "hello," and helping you and your child find your way around our practice. My staff is very conscientious not to keep patients waiting and we do our best to see our patients at their appointed time. Once you and your child are greeted by the dental assistant, you are brought to the treatment area where our dental assistant will explain everything your child's treatment and answer any questions that you or your child may have. Every staff member does her absolute best to make sure that you child's experience is comfortable and fun. So don't be surprised if at the end of the appointment, your child doesn't want to leave!
We all are looking forward to meeting you and your child, and helping your little one develop good oral health habits, early.